☛ January 4th, 2018 by ☛ admin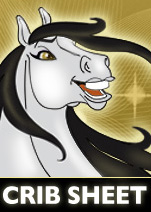 Hey now and a very HAPPY NEW YEAR, Race Fans!
What better way to roll into 2018 then with a new Team Diva strip—'HAY Now'.
And please keep spreading the good word that racing has its own comic!
Many thanks from all of us at OFF THE PACE to all of you, our loyal followers.
Click on the image below:
.
Category: Crib Sheets, The Gags |
No Comments »