☛ January 24th, 2018 by ☛ admin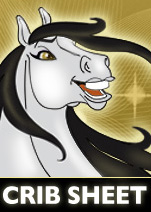 It's time for another bleeping installment of the OFF THE PACE The Horse Racing Cartoon comic strip!
Shakespeare once asked "What's in a name?"
Jockey Hector Gonzalez is about to find that out, the hard way.
(And please keep spreading the good word that racing now has its own comic!)
Click on the image below:
.
Category: Crib Sheets, The Gags |
No Comments »