☛ March 28th, 2015 by ☛ admin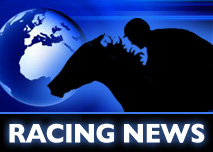 Via The Daily Racing Form's Facebook page:
Horse of the Year and dual classic winner California Chrome is the star of the evening as he takes on the world in the $10 million Dubai World Cup, centerpiece of a $30 million program at Meydan Racecourse. READ HERE
World Cup night also includes stars such as champion Main Sequence, Breeders' Cup Sprint winner Secret Circle, international standouts The Grey Gatsby and Flintshire, and more.
We're LIVE STREAMING the program from Meydan tomorrow. The first Thoroughbred stakes race on the program goes off at 8:40 a.m. Eastern (5:40 a.m. Pacific), with the World Cup set for 1 p.m. Eastern (10 a.m. Pacific).
WATCH HERE: http://bit.ly/1xkDQMx
Category: Out the Chute |
No Comments »