☛ September 20th, 2017 by ☛ admin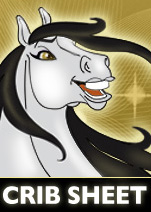 Race Fans! Team Diva is back (well, Filep anyways) in a new strip—'Shezalugga'.
.
Meet NY jockey Louie (Luigi) Grande and top jock from Dallas, Trigger Martin. Click on the link below to read the latest! Select the 'Strips' tab in the top menu bar to see more.
.
Tell all your race friends! Let them know that 
horse racing has come to the comic pages!
.
Click on the image below:
.
Category: Crib Sheets, The Gags |
No Comments »